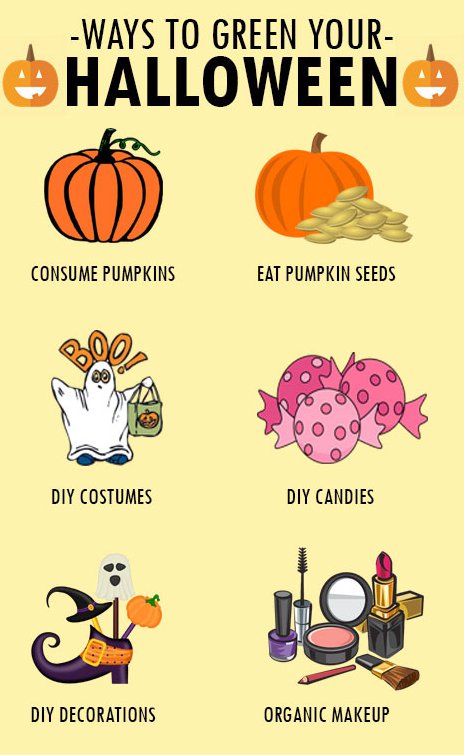 CONSUME THE PUMPKINS
Pumpkins are symbolic of Halloween and are no doubt extensively used during the Halloween period. Have you ever thought how many pumpkins you must be wasting around? The flesh of pumpkin certainly can be consumed even after you have used the pumpkin as a decorative agent.  Simply cut off the topmost layer and consume the rest. If not, you can give the pumpkin flesh to needy.
EAT THE PUMPKIN SEEDS
Pumpkin seeds is something you will find in the trash during Halloween. Pumpkin seeds are one of the nutritious seeds that are highly beneficial for the body. They can be eaten raw or roasted by peeling off the top cover. You can even add them to your smoothies for a nutrition boost.
HOME-MADE COSTUMES
We spend tons of money behind Halloween costumes that end up in the trash as we certainly cannot wear it casually. After all who would like to dress up like a ghost? *giggles* try making homemade costumes from old clothes. Use some old funky clothes from your closet like an old uniform or a jersey. If you still don't find anythi8ng and have no option other than purchasing a new one, lookout for the stores that rent clothes so that you don't have to throw it in the trash.
ORGANIC CANDIES
Instead of giving kids the usual store- bought candies, why not buy organic ones or make your own healthy treats? The store bought candies are full of artificial sweeteners, colours, preservatives, flavouring agents, acidity regulators, etc. Instead buy candy made of natural ingredients, no artificial flavours, no colour, and no preservatives. You may also make your own homemade chocolates.
HOMEMADE HALLOWEEN DECOR
Instead of purchasing the Halloween decorations from the stores, why not make your own? You can use real pumpkins instead of artificial ones and even consume it as mentioned in the first point. Use organic paint though to draw a face on it or stick cut outs on it using sticky rice. You may also use old cardboard, carton boxes, cans etc. to give your home a spooky look.
ECO-FRIENDLY MAKEUP
Halloween cannot be complete without a makeup! Do not use toxic paints and chemical filled makeup on the skin as it can have other side effects. Instead use natural colours like turmeric, beet (for blood stains), leaves paste etc. or you may also use makeup that belong to organic brands.
ADDITIONAL TIPS
When having a party, cut down on waste by avoiding disposable cups, plates and cutlery.
Use (and decorate) household items to collect candy in. A bucket, pillowcase, or old even an old bag can be decorated inexpensively at home.
From party food to treats to pumpkins, consider composting all organic matter and recycling other items.
Instead of throwing away an old box or bag, use it to gather all your decorations and keep for next year.
Look for goodies with minimal packaging and/or those made packaged in recycled materials.