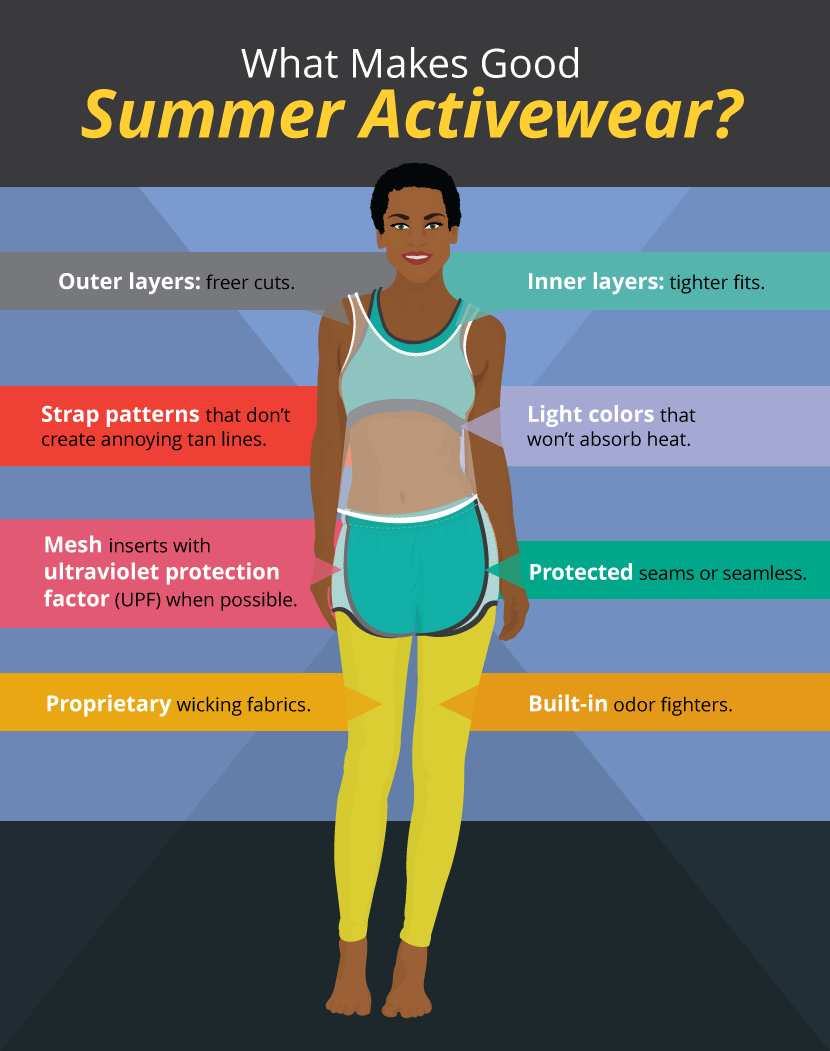 When looking at how the clothes fit, opt for freer-flowing cuts rather than one that fits tight to your body. Tighter clothes will trap heat in by not allowing air in and sweat to evaporate. However, underwear and socks should fit snugly to the body to prevent chafing.
Next, choose a wicking fabric, preferably one engineered to dry quickly and pull the sweat off you. Cotton, though fabulously comfortable, is not ideal for sweaty summer sports. Also be careful of polyester blends, which can actually trap heat rather than release it. Mesh inserts are fashionable and practical – just make sure they sit in the proper areas!
When you are looking at the construction of the garment, inspect the seams and make sure they protect and lay flat or that the garment is seamless. Fun strap patterns might be eye-catching and exciting, but make sure that you can live with the tan lines! Otherwise, you might reserve that tank for indoor workouts.
The best fabric choices for outdoor workouts are those that have built-in SPF or UVA/UVB protection. There are many long-sleeved shirts that are made to be worn in the heat of summer because they provide additional sun protection but are light, drapey, and breathable.
The last major consideration for your summer workout wardrobe? Color. This is the time to go crazy with color, and not just because the bright sunshine and energy of the season call for it; lighter colors will help keep you cool by not absorbing the sun's heat like darker colors. So wear those neon colors proudly!
You've chosen amazing, well-fitting, high-performing clothes for summer fitness activities, but how do you take care of them? First, do not let your clothes sit around in a sweaty heap to avoid mold and mildew, odors setting into the pieces (and other soft fabrics in the vicinity), and salt from your sweat breaking down the integrity of the fabric.
The first chance that you get, rinse your garments of the sweat (or, in the case of swimsuits, chlorine). A quick and easy way to do this is to just get into the shower wearing them! Then hang the pieces up to air dry before putting them into a separate basket for your fitness clothes (trust me, this will make your life much easier when it comes to sorting). When the rinsed clothes are dry, transfer them to the laundry, or even wear them again!
Fabric care for fitness clothing is actually easier than caring for your regular garments because fitness clothing requires one fewer step than your average laundry load: don't put your fitness clothes in the dryer. The quickest way to ruin an odor-repelling, sweat-wicking, go-the-distance piece of fitness clothing is to put your investment in the dryer. The heat of the dryer will break down the molecules in the fabric that provide you with those benefits and shorten the life of your clothes.
Another no-no when it comes to washing fitness clothes? Fabric softeners, for the same reasons as not using the dryer. And honestly, do you really need them with fabrics made to be soft and gentle against your skin?